Thailand means "Land of Free" and many have described Thailand aptly as the "Land of Smiles". It is located in the heart of the Southeast Asian mainland and spans across an area of 513,120 square kilometers. The estimated population as at 12 Jan 2019 stands at 69 million people. About 95 percent of its population is Buddhist. The country is divided into 4 distinct areas - the mountainous North, the fertile Central Plains, the semi-arid plateau of the Northeast, and the peninsula South distinguished by it's many beautiful tropical beaches and offshore islands.
Its climate is humid and hot throughout the year, average temperatures about 29 degrees Celsius. There are three distinct seasons - the cool season from November to February, the hot Season from April to May and the rainy season from June to October, though downpours rarely last more than a couple of hours.
Bangkok is the capital city, a city that combines ancient traditions with modern cultural diversities. It is accessible by more than 95 of the world's major airlines and the city has over 89,000 luxury, deluxe and standard-class rooms available. Thai is the national language. English is widely understood in the cities.
More information on Thailand is available at www.tourismthailand.org
Special Tour Package for MEDICAL FAIR THAILAND 2019 attendees – One Day Trip to Suphan Buri
Enjoy a one day trip to Suphan Buri and discover the Pre-Ayudhya Ancient Uthong history! Suphan Buri is one of the Central Provinces of Thailand and the home city of Prince U-Thong, Founder of the Ayutthaya Kingdom. This one-day programme has been specially put together in collaboration with the Thai Medical and Wellness Tourism Association for visitors and exhibitors of MEDICAL FAIR THAILAND as it presents the rich history and culture behind the charming country.
The one-day trip will start at the famous Pa Le Lai Temple – famous for its Buddha statue and its artistic mural which tells the history behind King U-Thong, thereafter it will continue to the Thai Farmers Lifestyle and Spiritual Learning Center. Visitors can learn about rice production in Thailand and explore the museum and learning centres.
After lunch, you will visit the 100-year old Sam Chuk Market for a traditional shopping experience. Retaining its authentic Thai style since a century ago - this local market received the Award of Merit in the 2009 annual UNESCO Asia-Pacific Heritage Awards for Culture Heritage Conservation! The one-day trip will end off with a visit to the Buffalo Conversation Village, one can immerse in the beautiful and peaceful surrounding with the nature – taking in the beauty of Thailand's trees and flower.
For more details and to book this tour, please click here.
Facts & Figures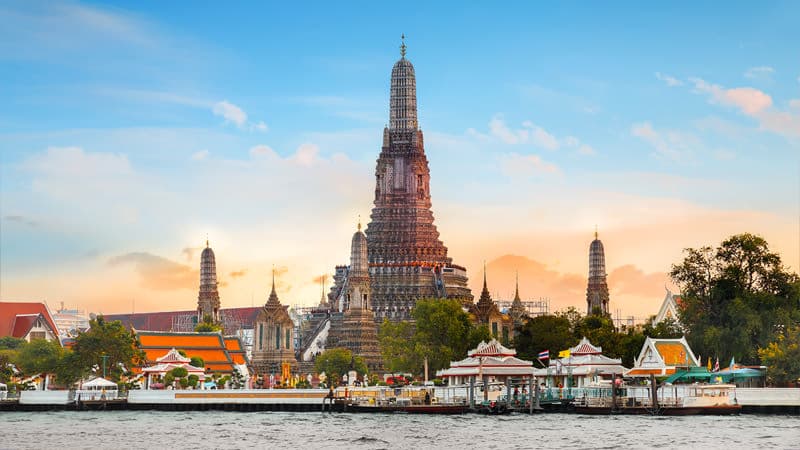 Location:
At the centre of the Indochina Peninsula in Southeast Asia
15.8700° N, 100.9925° E
Population:
69,248,820 (2019)
Official Language:
Thai
Currency:
Baht (THB)
XE Currency Converter
Climate:
Tropical, hot, humid (average of 29 °C)
Top