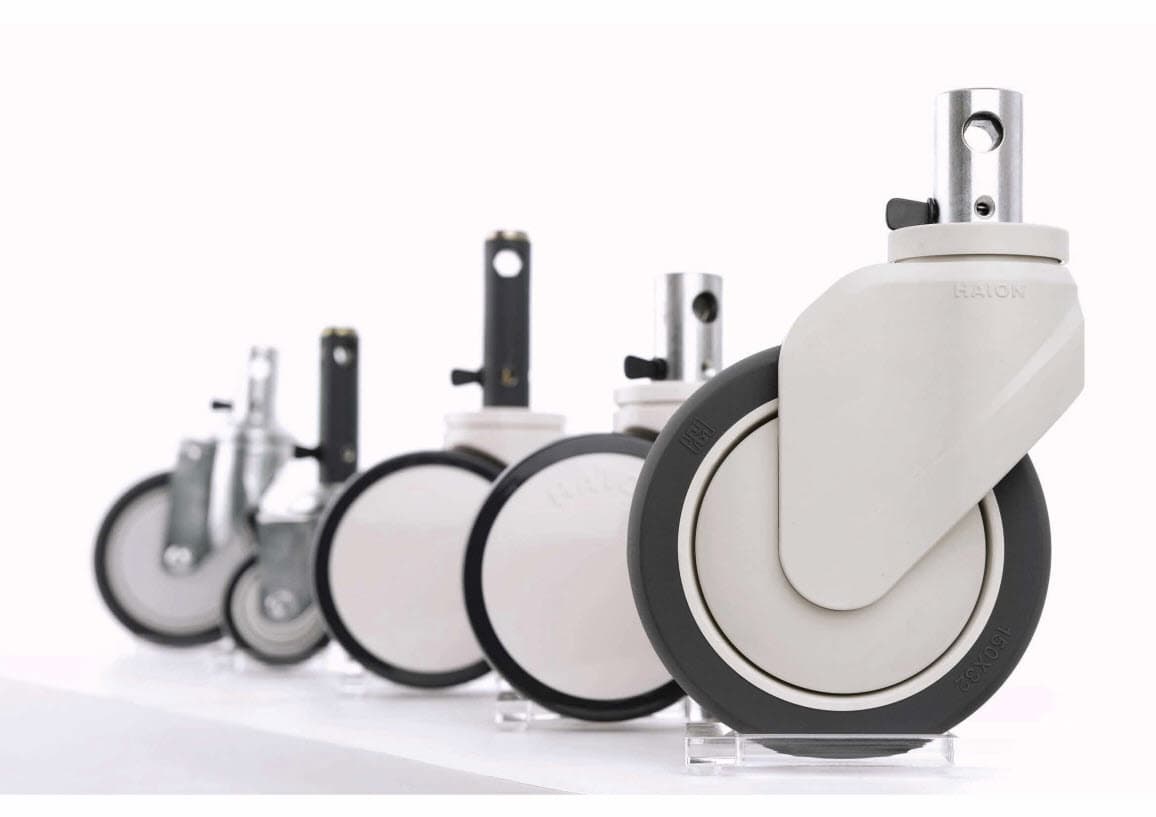 Discover the significant impact of the right casters on medical equipment within a healthcare environment. HAION Caster Industrial sheds light on the importance of choosing appropriate casters for seamless mobility in hospitals, minimizing potential damage or occupational injuries. Through enhanced durability and careful material selection, HAION Caster ensures the longevity of their products, reducing the burden on medical staff and improving patient care.
Could you tell us more about your specialisation in the manufacture of high-quality caster products, and how has the company evolved over the last 40 years.
HAION Caster is certified by EN12530+ EN12531 (European Standards) particularly in both medical equipment and hospital bed. By offering one-stop-shop service, all casters are made in Taiwan from metal part stamping、plastic part injection to final caster assembly. Base on internal strict quality control to inspect from raw materials in order to meet the high-quality requirements of medical products. HAION Caster mainly focus on R&D and manufacturing of medical caster and motorised system. Offering extensive product lines of both hospital bed and medical instruments for various medical equipment, such as: high-end ICU beds, advanced medical equipment, hospital trolleys, etc…Customized services are all available.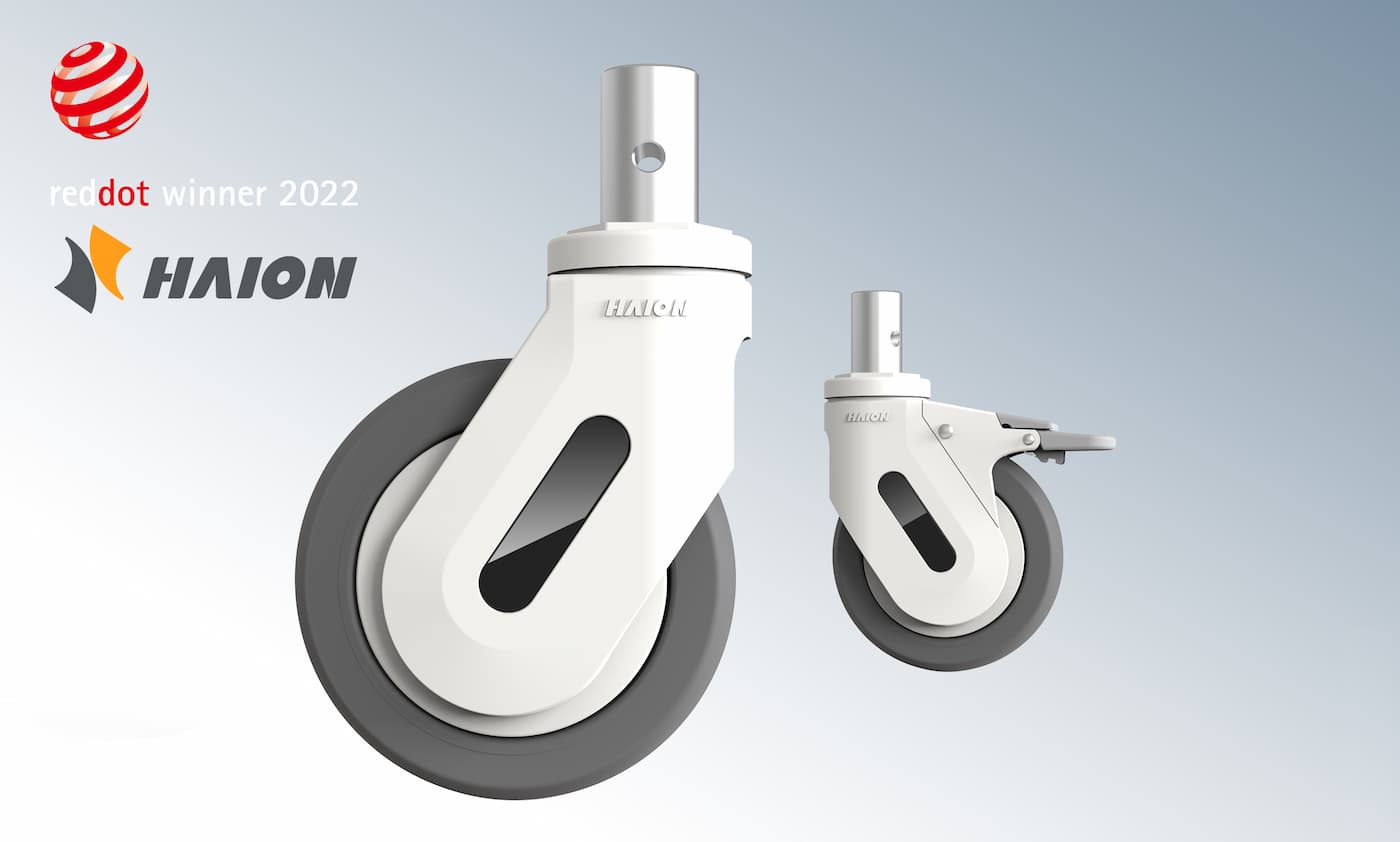 Could you share some insight on the importance of the right casters on medical equipment in a healthcare environment?
For example:
Some hospitals have been used for a long time, and the environment is relatively old, and a new building will be expanded. Between the old and new buildings, medical staff need to push patients or move medical instruments in different buildings. There will be slopes or descents and gaps between the elevator and building. Casters with poor quality will have a high rate of damage in the moving process.
According to such environmental requirements, we have improved the durability of the casters and selected the most suitable materials. Even in harsh environments, we can ensure the life of the product and thereby reducing the burden on medical staff in moving patient process only with light pushing force and avoid occupational injury.
Can you share some insight on your participation at MEDICAL FAIR THAILAND 2023, and what can visitors expect to see.
We have been exhibiting at MEDICA in Duesseldorf for nearly 20 years. We focus on European manufacturers and provide them mobility solutions of medical devices. In recent years, Asian instruments and equipment have developed prosperously, and Relatively the new demand from Asia is nearly equal to Europe.
As a visitor of MEDICA THAILAND is not the first time, but it is our first time to exhibit in MEDICA THAILAND 2023. Hope to have this chance to interact with local manufacturers for Thailand and neighbouring countries by providing more service. In recent years, we have launched the motorised system mainly to provide efficient movement and reduce occupational injuries. During the coronavirus pandemic, the burden on medical staff is really heavy. most of the nursing staff are female. In addition to taking care of patients, they also need to deliver medicine, assist patients in moving and doing physical examinations. After a long day, it easily causes occupational injury such as muscle soreness, muscle strain, etc.. Therefore, motorised system can greatly reduce the occupational injury of medical staff.
Motorised system can assist the operator to move patients and deliver medicine more easily and efficiently.
For operators:
It is more convenient and efficient to move patients.
Benefit by less injury and less occupational injury
For hospitals:
The intermediate moving time is greatly reduced and medical staff can focus on taking care of patients and routine tasks.
Less energy is consumed and overall efficiency improved.
Are there any specific target audience or customer segments that HAION Caster Industrial aims to engage with at MEDICAL FAIR THAILAND?
We mainly focus on medical equipment: manufacturers of hospital bed that we have more direct communication. In fact, we have many existed manufacturing partners and customers in Thailand. The main target customers of this exhibition are hospital bed distributors, manufacturers and professional hospital users. Through this exhibition, we hope to explain to them the differences of casters, the professional methods of caster selection and usage. Providing distributors, manufacturers and users with simpler and easier mobility solutions.
How do you collaborate with clients to understand their specific needs and tailor customised solutions to meet their requirements?
For the customers we are more familiar with and have ever cooperated with, after using our casters for a period of time; sometimes we will accompany the customer to visit the local hospitals to understand the actual caster usage and its environment. We will further discuss and propose a feasible solution for the requirements put forward by the hospital such as: durability requirements, functional requirements, and some design aspects of structural changes. We will listen to the opinions of users and the experiences of hospital bed manufacturers to do some R&D and product improvement such as: raw material, shelf life, storage environment, humidity, packaging, special usage requirements, functional requirements, etc.